At last ! The opening shot of the festival will be fired a few weeks from now (November 18, save the date), the PIFFF squad launches its first bombs. In the viewfinder, a list of Premiere screenings: Housebound by Gerard Johnstone, a horrific New Zealander comedy full of electricity and twists ; Shrew's Nest by Juanfer Andrés and Esteban Roel, produced by Álex de la Iglesia with insidious insanity ; Starry Eyes by Kevin Kolsch and Dennis Widmyer, a sharp portrait of a Hollywood Babylone ; The Duke of Burgundy by Peter Strickland, a poisonous story about oversensitive domination ; Spring by Justin Benson and Aaron Moorhead, a monstruous, organic and sexual romance ; The Mole Song: Undercover Agent Reiji by Takashi Miike, a crazy wild thriller movie ; Tusk by Kevin Smith, a hyper dark comedy "bestially" traumatic ; and also R100 by Hitoshi Matsumoto, frenzy sadomasochistic delirium of the utmost funniness and subversiveness.
Catch your breath. There's more: Saturday, November the 22nd, the Alien Attack Night will send you so far you might start wondering there might be something else living out there.
Are you still there? Very well, you must be informed that the selected French short film competition is also very promising and will be judged by a jury of high quality professionals: Céline Tran (actress and scriptwriter), Rob (composer), Kook Ewo (Title Sequence Designer), Bastien Vivès (author and illustrator) and Antoine Blossier (director and scriptwriter) compose the dream-team of this fourth edition of Paris International Film Festival. Note well this year's poster (designed by Gary Jamroz-Palma) forecasts the apocalypse...now !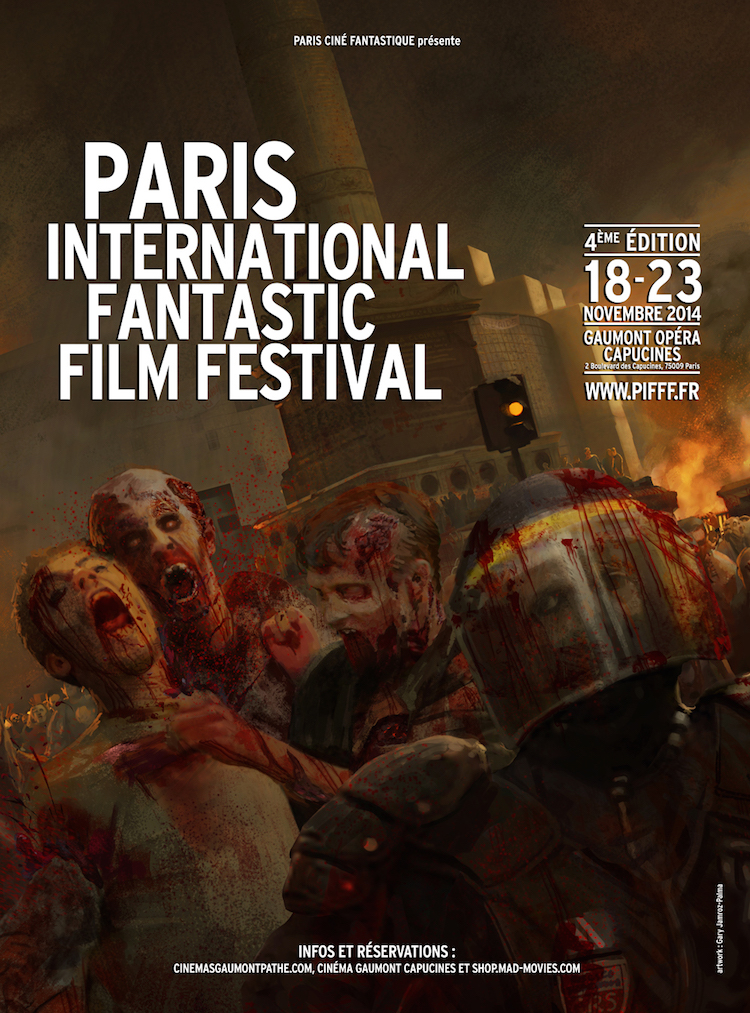 The French short film selection (7 films chosen by R-One Chaffiot).
La Maison de poussière by Jean-Claude Rozec

Gradually, an old social housing flat is knocked down by steel monsters. A former inhabitant rummages through the ruins in search of imprudent children and thus starts a strange journey inside this "house" inhabited by many memories...
La Momie by Lewis Eizykman

A man dressed up in a mummy costume begs in the street every day at the same place, ready to do anything it takes to earn a few coins.
Lune Noire (world premiere) by Gallien Guibert

One island. Three men. An old manuscript. A funeral march heading to insanity.
Noct (world premiere) by Vincent Toujas

Jay, newly suffering from insomnia, faces a weird presence which will become his persecutor as well as his liberator.
Puzzle (world premiere) by Rémy Rondeau

An old man becomes lonely after the death of his wife. To avoid boredom he starts making puzzle. One day, he find a mysterious box on his doorstep.
Shadow by Lorenzo Recio

Taipei. Xiao Shou is a shy boy, a shadow theatre player and a traveller. One day, his path crosses that of Ann and he falls in love with the beautiful girl. Alas, a dreadful accident plunges the young man into a world of darkness.
The Sunboy (French premiere) by JP Bouix

A young boy, credulous and solitary, sees in his father the representation of a monstrous beast wanting to destroy his imaginary kingdom.
The international short film selection (8 films chosen by Benjamin Leroy).
A(r)men by Thomas Lunde - Norway

Dutiful son and good son of God, Arne looses an arm in a work accident. Trying to adapt to his new life, he witnesses a miracle.
Autumn Harvest by Fredrik S. Hana - Norway

About to put an end to his life because of the death of his wife, a sailor receives a mysterious call from the sea.
Bad Guy #2 (internationale premiere) by Chris McInroy - USA 

A young « bad guy » full of good will discovers the occupational hazards of working in the crime industry. After accepting a promotion, he has to show the example... or become an example.
He Took His Skin Off For Me (French premiere) by Ben Aston - UK

In order to please his girlfriend, a man decides to take his skin off. Everything is wonderful at the beginning, until grim reality returns.
Invaders (internationale premiere) by Jason Kupfer - UK

Instants before an aggression takes place, two psychopaths showing great attention to detail discuss the way they should appear on the (crime) scene.
Nocturne (internationale premiere) by David F. Geiser - Switzerland

After the last screening of the day, the operator turns the cinema projector off as usual but tonight something is going wrong...
Suche Nach Liebe (internationale premiere) by Hans Kaufmann - Switzerland

A serial killer terrorises Zurich. Every night he pays a visit to a young woman who works at a gas station. He has mixed feelings about her...
The Boy with a Camera for a Face by Spencer Brown - UK

The mother is pushing, the father is holding her hand, the newborn is on its way. All of a sudden the midwife is struck by sheer astonishment when she sees the baby has a camera serving as a head!