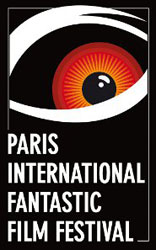 President
Gérard Cohen

Managing Director
Cyril Despontin

Artistic Director
Fausto Fasulo

Director Advertising and Partnerships
Julie Vergnet
Website : PIFFF
The Paris International Fantastic Film Festival (PIFFF) was established at the initiative of the Association Paris Ciné Fantastic, in partnership with the magazine Mad Movies and with the help of cinema Gaumont Opéra Capucines.
Paris Fantastic Film is an association Act 1901 that aims to promote fantastic cinema in all its forms: event, written or digital editions, Internet, audiovisual programs.

Paris Fantastic Film Association Act 1901. President: Gerard Cohen. Secretary Cyril Despontin. Founding member Fausto Fasulo. Treasurer: Mary Cohen. Headquarters: PO Box 530 6 rue Rodier, 75009 Paris.

Programming
Fausto Fasulo, Cyril Despontin, Erwan Chaffiot (French shorts), Benjamin Leroy (International shorts)

Advertising and partnerships
Julie Vergnet, Nathan Reznik

Overall coordination
Cyril Despontin

Media Relations
MIAM (Blanche Aurore Duault, Nathalie Iund)

Technical managers
Xavier Colon, Etienne Rappeneau

Volunteer Management
Virginie Tschang Puault, Léa Bodin

Logistics of the guests
Zoé Rabayrol, Anna Gélibert

Stage management
Stéphane Creoff, Gwendal Goalès

Graphic
Xavier Colon, Mathieux Roux, Carla Ferreira (Pondichéry)

Webmaster
Véronique Davidson

Translation of the website
Anaïs Hakes

Printer
Leonce Deprez

Catalogs texts editors
Fausto Fasulo, Erwan Chaffiot, Benjamin Leroy

Subtitling works
Clothilde Lavergne (Coordinator), Anais Bonino, Zoé Rabayrol, Anna Gelibert, Sylvain Lamet, Roxanne Comotti

Conception of PIFFF's logo
Rémi Andrieux

Poster
Georges Cl4renko

Trailer
Xavier Colon

Festival's spot
Bruno Forzani, Hélène Cattet

Video Team
Anthony Dausseur, Mikael Chevallier

Making-of
Jean-Baptiste Herment

Music of the trailer
Perturbator